The Institute of Banking Personnel Selection conducts exams for recruiting bank candidates in Public Sector Banks and Regional Banks. These exams assist the candidates achieve their dream jobs as bankers.
How to Crack IBPS PO in First Attempt?
You must put in regular efforts and hard work to crack IBPS PO Exam in the first attempt itself. Below are certain tips that will help you crack IBPS PO in one attempt.
1. IBPS PO Exam Pattern and Syllabus
Have a detailed knowledge of the IBPS PO Exam Pattern and IBPS PO Syllabus. Know the precise syllabus and the pattern of the examination. Check out the sections that are given more marks and on those which you will have to spend less time. These are the sections that can help you to score good marks.
Have knowledge about all the topics in each section that you will be tested on. And commence to collect study material for IBPS PO.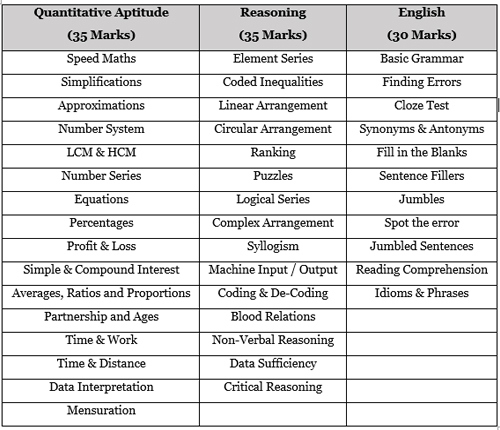 2. Time Management for IBPS PO
Before attempting IBPS PO: 
The success is achieved by those who use the time given during IBPS PO Exam at the best possible level.
Just a few days before the IBPS PO, allot time for each and every topic and set aside enough time for the revision. Test yourself on a weekly basis so that you come to know where you stand. Make a schedule and follow it strictly.
For your reference, below is a detailed study plan for IBPS PO for 60 days. Refer to it, try to understand it and apply it for your exam.
While Writing IBPS PO: 
It is important that you manage your time while writing IBPS PO well. Since IBPS PO is a time-constraint exam, where you have to solve 100 questions in 60 minutes for IBPS PO prelims, it is quite important for you to manage your time while solving the questions.
Below are several tips that will help you manage your time and score more in IBPS PO:
1. Attempt those questions which require less calculation. For instance, attempt English section first so that you don't waste your time in calculations.
2. If you are not sure about the answer to a question, don't waste your time on it. Move on to the next one. Just skip the question and solve it in the end, if you have any time left.
3. Do not answer without reading the complete question. As, IBPS PO Exam has negative marking, you need to be completely sure of the answer you mark.
3. Know your Weaknesses
Solve as many IBPS PO Mock tests as you can. Study Campus has a list of free IBPS PO mock tests that you can solve on a weekly basis. Analyze topics where you find difficulties when attempting IBPS PO Mock Tests and later work on them. For example, you might be good in aptitude part, but a little weak in English. In that case, start to allot more time to English.
Your IBPS PO Study Plan should focus on your weak areas so that you don't miss any opportunity to crack IBPS PO.
4. Research and Read and Learn
You can find a lot of studying content online related to IBPS PO. Talentsprint Youtube channel has over 1600+ videos that you can use for free. See them all to learn the tactics to solve major questions in IBPS PO. Use all the content from various sites and learn them all to crack IBPS PO.
5. Stay Confident and Positive
Be positive. Don't get worried and nervous. The minute you start becoming anxious about IBPS PO Exam, you will start losing hope and end up not giving your best. It is advisable for you to gear up and commence preparing for IBPS PO now!
Don't wait for the IBPS PO notification to be out. Commence your IBPS PO preparation now!
Study Campus has a very effective well-constructed course for you, which will assist you to crack IBPS PO in your very first attempt.